Viscose PET wet wipes non woven fabrics
Brand :ShunTai
Product origin :Shandong Province, China
Delivery time :7-15 days
Supply capacity :80T per day
Product Applications: 1. Dry wipe; Wet Wipe; Baby tissue 2. Makeup cotton; 3. Baby diaper, adult diaper 4. Sanitary Napkin 5. Medical use, water absorbent fabric
Viscose PET wet wipes non woven fabrics
1. Product Introduction:
Cotton spunlace non-woven fabrics are also called pure cotton spunlace non-woven fabrics. All-cotton spunlace non-woven fabrics are made of natural fiber and pure cotton. Through opening and loosening cotton, cutting-edge carding machine, netting machine and drafting machine are used. After finishing the pure cotton into a net, using the large and dense needle-like water column formed after pressure, the spunlace machine causes the cotton fiber to entangle into a cloth. It only takes 5 minutes from raw cotton to fabric. Compared with traditional woven fabrics, it saves spinning and weaving links, shortens working hours, saves a lot of energy, labor and equipment, low-carbon, environmentally friendly, energy-saving and emission reduction, and reduces costs 30 About %, its process has the world's advanced level of fabric forming technology.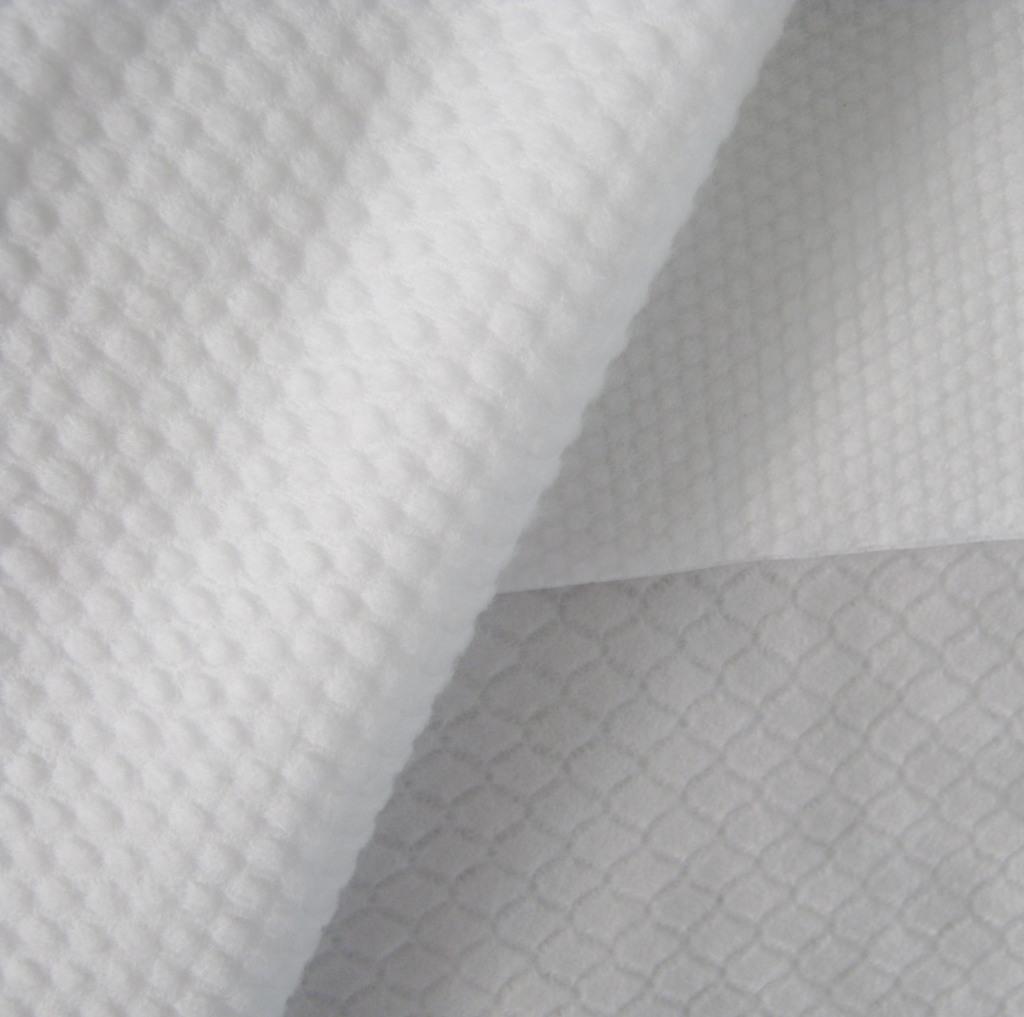 2. Product Details:
| | |
| --- | --- |
| Product name: | Viscose PET wet wipes non woven fabrics |
| Materials: | Viscose+PET |
| Colors: | white |
| Weight: | 10-100gsm, or customized |
| Width: | widest width is 2200mm, according to your need |
| Length: | can be customized |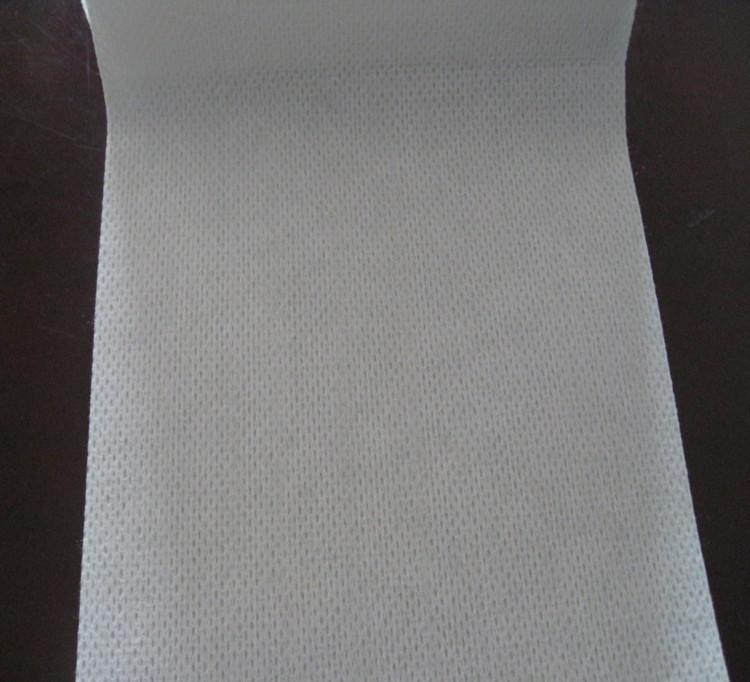 3. Product Features:
1. Very Soft
2. Non irritation
3. Breathable
4. Hydrophilic, excellent water-absorbing and water-retaining properties
5. Safe & Eco friendly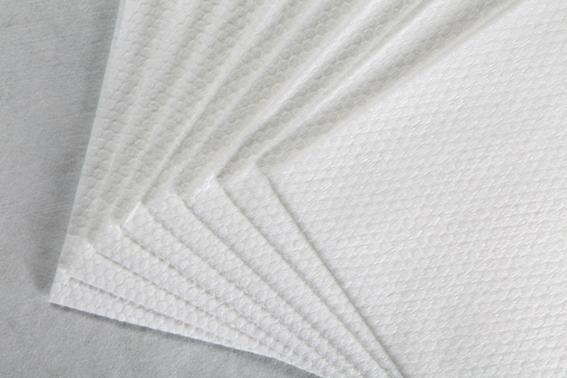 4. Product Application:
1. Dry wipe; Wet Wipe; Baby tissue
2. Makeup cotton;
3. Baby diaper, adult diaper
4. Sanitary Napkin
5. Medical use, water absorbent fabric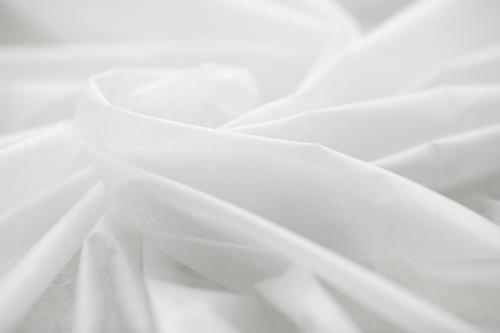 5. Product extension knowledge:
Spunlace nonwovens are nonwovens produced by the spunlace method. The spunlace method is also known as the hydraulic acupuncture method, the jet spun net method, the jet entanglement method, and the water jet forming technique. The technology was originally invented by the American DuPont and Chicopee (Chicopee) cotton spunlace non-woven fabric technology research, in 1985 DuPont cotton spunlace non-woven fabric technology realized industrial production. Subsequently, France, Japan, and other cotton spunlace non-woven fabrics in the United States began to study. Due to the unique process technology of the spunlace method, it is widely used in the fields of medical and health products, synthetic leather base fabrics, shirts, and home decorations. As one of the fastest growing process methods, the spunlace non-woven fabric industry is also considered a sunrise industry in the 21st century and an important part of the technological transformation and industrial upgrading of the textile industry.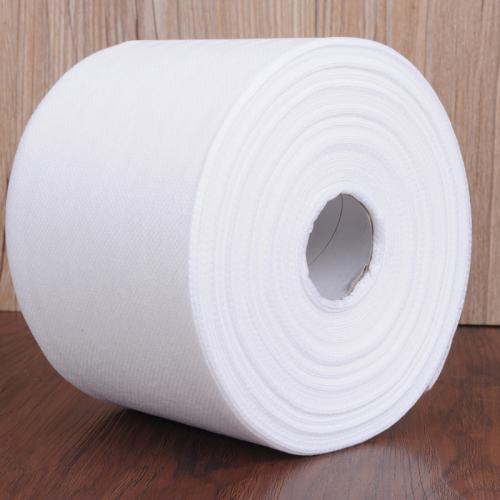 6. Packaging Details:
1500-2000 meters / roll

Each roll will be packed by a transparent plastic bag, then by wrapping film, and then can also be packed by a strong woven polybag
Samples delivery time: 1 ~ 2 days
Normal products: Available stock
LCL orders delivery time: 7~15 days
FCL orders delivery time: 15~20 days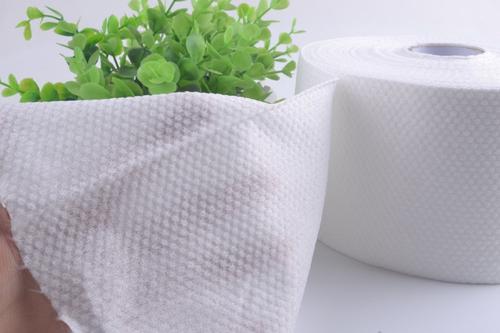 7. FAQ
Q. 1. Are you a manufacturer or a trade company?
We are the manufacturer specialized in Non-woven fabrics and related products.
Q. 2. Can you provide the samples and how long?

Yes, of course we can provide the samples to you. Normally, samples will be ready for delivery in 2-3 days with express as you like, but you should charge the shipping cost.
Q. 3. Can we have our logo or company name to be printed on your products or package?

Sure. We can do the custom printed request as you like.
Q.4. How about payment?

Now we can accept T/T or Alibaba assurance order, we do the FOB or CFR any ports.
Q.5. What's your MOQ?
Normally, about the Non-woven fabric, it will need one ton for each color each design, shipping bags will need 5000pcs. In fact,we have stock in some normal color and weight with 80-100gsm dot and 80gsm embossed non woven fabrics.
If you are interested in our products or have any questions, just leave your message, we will give you the fastest and most professional answer!
Get the latest price? We'll respond as soon as possible(within 12 hours)